The amount of retired EV (electric vehicle) batteries will grow at an unprecedented rate in China. Recycling them will bring twofold benefits – reducing the consumption of raw materials for producing new batteries and minimizing potential environmental and health hazards caused by the mismanagement of battery waste.

– Ministry of Industry and Information Technology (中国工业和信息化部专家)
With hundreds of thousands of electric cars hitting the streets annually, China is emerging as a de facto leader of EV. An electrified fleet could help the nation revolutionize its automotive industry, reduce reliance on imported fossil fuels, and mitigate air pollution from exhaust emissions. Yet alongside the EV boom is a proliferation of batteries, which will bring China a new waste crisis if it cannot gear up for the battery recycling.
China's EV Ambitions
China has never shed from leading the world's EV development. The government is targeting seven million EV sales by 2025, meaning that every one of the five sales in Chinese automobile market would be an electric or hybrid car within the next decade. Starting 2019, Beijing will also impose a 10% quota on automakers to ramp up EV production.
The reason behind is multifaceted: China has made EV (or new-energy vehicles in Chinese sources) a clear priority for the comprehensive upgrade of Chinese industry; battery-backed cars could help curb air pollution and carbon emissions – environmental externalities caused by burgeoning urban mobility; the country wants to reduce its dependence on oil imports.
Thanks to financial and policy support from top leadership, China is seeing a strong growth in both supply and demand of electric cars. Chinese automakers produced roughly 375,000 EVs in 2016, equivalent to 43% of the global total. This has yet taken international manufacturers into account, which made almost the same amount within China. Meanwhile, EV adoption is skyrocketing. The Chinese market contributed to half of the 1.2 million EV sales worldwide in 2017, almost four times the U.S. sales. According to the government report, China has 1.8 million electric and hybrid vehicles, more than ownership in the U.S., Japan, and Norway combined.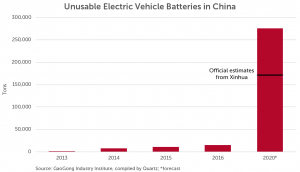 Battery waste problems
But the rise of EV has its downsides. A battery pack for the electric car contains thousands of cells, which will eventually wear out. For instance, the average battery life of a Tesla Roadster is approximately five years or 100,000 miles. When not good enough for power, each pack becomes half tons of metal scraps in need of replacing and recycling. For Chinese colossal EV fleet, the first batch of batteries is set to retire this year, whereas the total amount is expected to reach 120,000 – 170,000 metric tons a year by 2020.
Recycling retired EV batteries is challenging. Lead is classified as one of the top heavy pollutants, thus the recycling of lead acid batteries has been subject to strict environmental regulations and public scrutiny. By contrast, lithium is yet identified as hazardous waste, resulting in a regulatory gap in its recycling. Mostly dominated by informal actors, the industry sees a huge operational disparity between centralized recycling center and small workshops. Inappropriate extraction of lithium and cobalt can release toxic gases and cause health hazards. Worse, battery waste could end up in landfills if mishandled, contaminating the soil and aquifers.
A reason that might explain the lack of urgency is that the Chinese government and investors are way ahead for securing the supply of lithium and cobalt. The decline in production cost has made reusing or recycling a lesser priority for businesses. Current practices are merely driven by environmental rather than economic concerns.
Battery recycling is a producer responsibility
When it comes to recycling, manufacturers of EVs and batteries are with utmost responsibility. Dealing with all the battery waste has posed huge challenges as well as great opportunities in this surging industry.
Compliance
As part of its extended producer responsibility (EPR) policy framework, the Chinese government puts EV manufacturers responsible for collecting, treating, and recycling all batteries. Automakers are required to establish recycling channels, service outlets, and maintenance networks that allow EV owners to easily have their old batteries repaired or replaced. Partnering with their sales units, car manufacturers should also encourage customer participation through repurchase or trade-in subsidies.
Meanwhile, battery makers are under the obligation to automate and standardize the battery design so that the used products can be easily dismantled and recycled. They should also provide automakers with technical support and necessary know-how on proper storage and disposal. Together, the manufacturing industry is trying to establish a traceable system where each battery is coded by producers, recorded by carmakers, and shared with customers when sold.
Corporate social responsibility
In addition to compliance requirements, recycling is increasingly considered as a synonym for sustainability, thus more socially responsible business management. Failing to tackle the scraps from its supply chain may hurt the corporate branding in long run. Amid fierce competition in the EV industry, carmakers with business integrity and lesser environmental footprint have a greater potential of attracting customers given eco-consciousness has been an important factor with regard to EV purchase intentions.
One of the pilots would be BYD, a leading Chinese EV maker. The company announced in March that it would open a battery recycling plant in Shanghai this year, aiming to address battery waste and associated environmental problems. As the company positions itself as an industrial leader, BYD is rapidly expanding its market in Asia, Europe, and the United States. The company believes it has a social responsibility to recycle the battery in order to minimize environmental impacts and production costs.
Business opportunities
The stockpiling retired batteries also present opportunities for recycling businesses. Unlike small workshops that tend to dismantle the electronic scraps manually, large companies equip themselves with high-tech recycling operations. With years of experience in recycling and reusing e-waste, they are tapping into the new wave of battery waste from China's EV boom. For instance, Shanghai Jinqiao Group, a state-owned enterprise has secured licenses since 2017 and is upgrading equipment across its recycling facilities. In fact, much of the industry has already reaped the benefits. Their share prices have enjoyed a rise from 60% to 200% after investing in battery recycling facilities.
Challenges going ahead
Despite the looming business opportunities and increased social responsibilities, the industry still faces numerous obstacles going forward, especially when recycling doesn't make sense economically. Cost of battery recycling is up to three times higher than the value of recovered materials. Recycling lithium, the core ingredient in EV battery can hardly work through existing commercial smelting processes. And climbing waste treatment costs have further undermined the economic feasibility of recycling. In China, the disposal of solid waste could cost as much as 1,000 RMB per tonne according to the newly released environmental taxes.
So how can business handle the new waves of battery waste in an economically and environmentally sustainable manner? One solution would be repurposing – giving a second-life to lithium-ion batteries. Retired batteries still have at least 70% of their capacity, even though they can no longer power the car. The remaining capacity makes them an ideal alternative for home energy storage if properly dismantled, tested, and repackaged. Such approach can help business cut operating costs and lower demand for raw materials. With the soaring EV market and the associated growth in used batteries, China is at the perfect time to drive innovative solutions to recycling battery, even leading the way on sustainable energy and transportation.
---
To learn more about the challenges and opportunities of waste in China, feel free to review some of our other posts on the topic.
---
Feature Image Credit: Flickr user Joshua Rothhaas.