China has some of the largest and fastest-growing megacities in the world. And with 100 million more people moving to those cities by 2020, China will have to tackle critical urbanization issues years, even decades ahead of everyone else.
One area that doesn't receive nearly enough attention is waste management. Through our ongoing research on waste in China, we've studied the realities of Shanghai's waste sector from numerous angles – from informal recyclers to paper price spikes around Single's Day.
But last week, one case, in particular, caught our attention. What happens when a Chinese prefecture sues a fellow government body over waste dumping?
Wuxi Sues Shanghai: A New Precedent?
On Friday, government prosecutors from Wuxi announced a formal case against Shanghai Yangpu District. Wuxi officials are suing the district's City Appearance and Forestry Bureau, along with two waste management firms and subcontractors, for 2,920 tons of illegally dumped waste.
The firms allegedly shipped waste out of Shanghai for several months during 2015, then left most of their household waste in Taihu Lake. If the courts rule in favor of Wuxi prosecutors, Shanghai officials could pay up to two million yuan for short- and long-term cleaning efforts, setting a precedent for future cases.
This is the first time that a prefecture has sued Shanghai's municipal government, but not the first time that a neighbor has complained about Shanghai's waste problem.
In July 2016, Jiangsu officials found 20,000 tons of construction waste in Taihu Lake. Five months later, residents revealed another 100 tons of waste in a reservoir on Chongming Island. In both cases, locals blamed Shanghai-based companies but did not sue the municipal bureau for damages.
If the July incident inspires a court case, local prosecutors will likely ask for more than two million yuan. The cleanup operation is nearly seven times larger than that in Wuxi, requiring more time and money.
Larger Systemic Problems
Construction Waste
Aside from general legal setbacks, what does this case really mean for Shanghai's municipal government? For one, it could force Shanghai to face some larger structural problems.
After the July dumping incident, Shanghai took a hard look at construction waste. Before the end of July, Shanghai announced a new law banning construction waste from leaving the city. All contracted waste management companies must now have landfills in Shanghai, allowing the municipal bureau to track their daily shipments and landfill activity.
In September, Shanghai took another step forward. The City Appearance and Forestry Bureau released new draft regulations, tightening rules and expanding control over waste management companies. The draft requires contractors to own their own landfill before obtaining a permit, and it asks each district to build its own "waste transfer point," where material can be sorted properly.
Landfill Space and Growing Waste
While these measures represent a sign of progress for Shanghai, they fail to address a bigger problem. The city's waste is growing exponentially, and the problem isn't limited to construction waste. In 2016, Shanghai hit a new record for municipal waste levels, collecting 7.9 million tons over the course of the year.
While this number climbs, however, the city's waste management sector is experiencing major cuts. Officials will close two government-run landfills in 2017, and in a push for greater oversight, will continue closing private waste collection centers as well.
A lack of landfill space and fewer large-scale private collection centers has led many waste management companies to search for landfill space outside of Shanghai.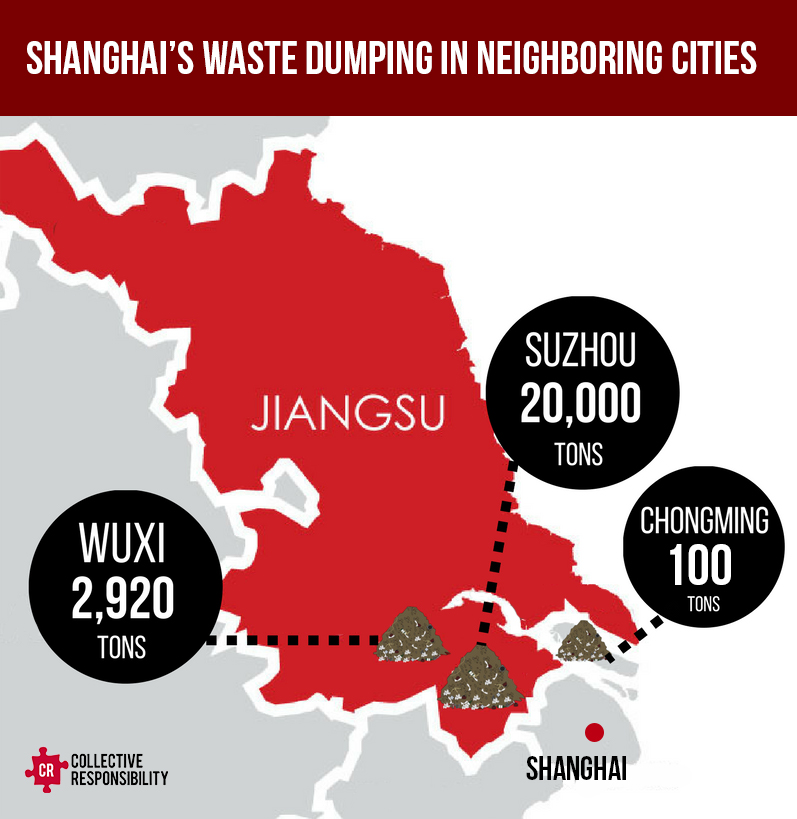 The Trouble with Subcontractors
Another structural problem involves oversight: Who monitors city waste management, and are their regulations effective?
In Shanghai, the City Appearance and Forestry Bureau issues permits to waste management companies and collection centers, overseeing all registered landfills in the city. Some district-level departments, like that in New Pudong, even track private waste companies, setting clear collection routes beforehand and installing GPS units on trucks.
As far as Wuxi is concerned, however, registered companies are not the problem. In 2015, the people accused of dumping waste in Wuxi actually had no direct involvement in the scandal. Instead, they had hired subcontractors to complete their work, and these companies did not necessarily have licenses, permits, or registered landfills.
With more waste and declining landfill space, companies have a clear incentive to hire subcontractors. The original companies still earn money, but they divert waste from their own landfills and perform minimal work. They collect a fee from the government, pocket it, and then use a small percentage to pay cheaper subcontractors who will finish the job.
Under this system, transparency is an issue. Many subcontractors fall beyond government oversight, and for this reason, do not face the same legal restrictions as their employers.
The Path Ahead: Prevention
Faced with key structural issues and potential lawsuits, Shanghai will likely propose three changes in the near future:
1. A stricter legal environment
The City Appearance and Forestry Bureau will tighten requirements for permit holders. The Bureau could require companies to own their own private landfills, receive official permission before subcontracting, and/or subject subcontractors to official vetting before hiring them.
2. More government-owned waste facilities
Waste management has become progressively less private over time. Over the past few years, Shanghai has closed several large-scale waste collection centers and become more stringent with Environmental Impact Assessments (EIA).
Through our research here at Collective, we found that Huangpu District no longer has large private collection centers, closing four of them over the past five years. This trend will likely continue over time as Shanghai's government attempts to own its own companies and storage centers, avoiding future scandals through close management.
3. More incinerators
Another way to prevent scandals involves creative treatment of waste. Shanghai plans to build eight new incinerators by 2020 – doubling capacity levels – and has encouraged waste management companies to think more about reusing material. In particular, the latest Five-Year Plan asks companies to sort out brick and sediment from construction waste, mix it with dirt, and reuse it as landscaping or backfilling material.
Prevention Meets Opportunity
For international businesses, this could be an open door for entering China's growing market for solutions.
Shanghai cannot handle waste management on its own – especially in the short term.
The city will need EIA-approved firms to clean up its image and replace private companies that fail to meet higher regulatory standards. Foreign businesses can sell their waste-to-energy techniques, storage facilities, and landfill space if they are prepared to jump through some regulatory hoops.
The government faces several major challenges. They must keep up with rising levels of waste, create a new waste management system, and build new incinerators, recycling centers, and collection sites – all at the same time. To make matters worse, the government has to weather this transition with limited help, shutting down many of its private sector counterparts.
Shanghai's government-run system will need several years to transition. In the interim, waste management firms abroad that have positive environmental records might find it easier to get a permit and fill the gap – providing expertise, new facilities, and global partnerships.
---
To learn more about this topic, check out our Waste in China tag. Follow Collective on social media to receive updates on new articles, reports, and events.
---
This article was written by Alison Schonberg, Research Analyst at Collective Responsibility.