The Startup Reality in China
It feels that the days when China is called a land of "copycats" are long gone. Since the official launch of the Made in China 2025 master plan, China has been leapfrogging towards an innovation-powered economy rather than one focusing on labor-intensive manufacturing.
The nationwide movement has gained huge momentum: In 2015 alone, China's total patent filings matched that of the US, South Korea, and Japan combined, propelling the startup boom across the country. In Shenzhen, the forefront of China's 1970s reforms, one in every six of its residents owns a startup business.
Yet the chance for startups to survive is extremely low. Globally, only about 10% of them continue growing after two years, while the rest either go bankrupt or are sold at discounted prices.
China is no exception. ITjuzi – one of China's biggest database of startup companies – reports that startups that died by the end of 2015 ran an average of 32 months. It also shows that between 2014 and 2015, early-stage startups increased by 67%, while growth-stage ones only increased by 46.5%. Evidently, China's startups face greater challenges entering the second stage.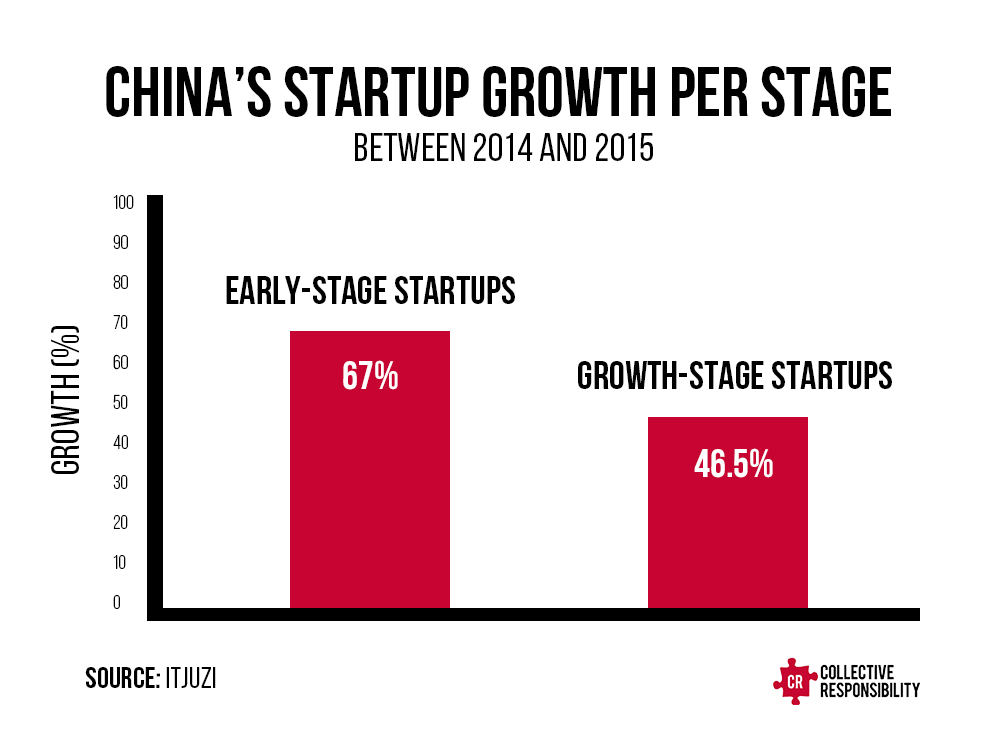 So, what did the startup survivors do right?
In 2016, Collective Responsibility worked with Bosch to conduct a research on innovative business models in China. To gain first-hand information about the startup lifecycle, we spoke to 25 entrepreneurs with businesses either based in China or targeting/sourcing from the Chinese market. Among the startups, 18 had been in operation for over two years.
We asked the entrepreneurs about their ideation process, the approaches to innovation, how they understand customers, as well as their biggest fears and hopes about the businesses. Our insights form the basis of our next blog series on innovation and entrepreneurship in China. Stay tuned for more.
As an introduction to the series, we would like to share 3 quick insights on what we believe are the fundamentals of a successful startup in China.
1. They strive to understand users' needs, aiming to help users solve real problems.
While the Chinese market is huge, needs are changing every minute due to urbanization and the rise of millennials as the main purchasing force. "We have to keep up with the ever-changing customer need; we will lose our competitiveness if otherwise," says David Chen, Co-Founder and CEO of Strikingly, an online website building platform.
From analyzing data collected from online sales platforms and social media, to conducting in-person interviews and blind tests, growth-stage startups strive to give priority to understanding the wants and needs of users. These insights create the fuel for internal innovation.
2. They move and adapt extremely fast.
The lean business model, a business strategy that aims to eliminate waste in product and processes, is widely adopted among growth-stage startups. "We were very lean," says Nelson Zhang, CTO and Co-Founder of a wireless headphone company called Wearhaus. "We are able to get things done very quickly for very low costs."
Although the sheer size of the Chinese market makes it possible for startups to scale up a product quickly, there is also the pressure of continuous innovation. "Competition is huge; thus ,being fast and concentrated is the only way to win the market," says Steven Su, Co-Founder of Mingyizhudao.com, an O2O platform that remotely matches patients in need of surgeries with qualified doctors.
3. Building the right team is challenging, yet critical.
When asked about the key success factor of their business model, almost all entrepreneurs emphasized the importance of having a highly-committed team with strong executive capabilities.
Interestingly, many wouldn't expect to hire talents with the best skills. What's more valuable to them is one's ambition, the ability to learn, and whether their values are aligned with those of the founding members.
"It is not the best talent that creates a good company; it is the team, the culture, and if you have that environment that aligns with what you are doing," says Martin Shen, Founder and CEO of Xingren Trusted Doctors, a healthcare app founded in 2014 that now employs over 570 workers.
Yet hiring can be a major challenge, especially during the early fast-expansion stage. "We have to continue building the team, as the current consumer demands are far greater than our ability to meet them," explains Shaolong Sui, Co-Founder and Greater China CEO of Roboterra, an educational robotics company.
Key Takeaways
From our perspective, a successful startup always puts the human at the center of strategy making.
On the one hand, you must listen to users so that you don't design a product that no one wants. On the other, you must also look for the right talents and cultivate a culture that rewards innovation, fast learning, efficient execution, and commitment to the company.
We hope these quick insights are useful to you. If you're interested in learning more about our researching findings for successful startups, stay tuned.
---
This article is Part One of our new Innovation and Entrepreneurship in China. To stay updated on new articles both in this series and in our other projects, follow us on social media.